Contact:
Alexah Rogge
202-225-6611
alexah.rogge@mail.house.gov
WASHINGTON, DC - Congressman Russ Fulcher presented the Congressional Award Gold Medal to recipients from Idaho's First District.
At the ceremony, 538 youth were recognized from over 42 states and territories-- the largest class in the program's 40-year history. Idaho's First District was represented by five winners, Kyler Liscinski, Quincey Lochard, and siblings Alia, Asher and Jules Carr-Chellman.
Each participant must fulfill certain requirements to earn the Congressional Award Gold Medal. Alia completed her Voluntary Public Service by working to save baby turtles in Mexico with Human Rights International. Asher and Jules completed their Eagle Scout projects in State College, Pennsylvania by improving a local parking lot. For the Personal Development portion, the triplets started a rock band in their home town of Moscow, Idaho. For Physical Fitness, they dedicated time to developing their own personal fitness routines. For Exploration, Alia explored Austin, Texas; Asher explored New York City, New York; and Jules explored Las Vegas, Nevada.
Kyler Liscinski, from Caldwell, Idaho will be receiving the Congressional Gold Medal STEM Star for his Personal Development of achieving the highest level possible in programming and robotics in his STEM program. Unable to attend the ceremony is recipient Quincey Lochard from Meridian, Idaho. Quincey completed Voluntary Public Service by visiting local nursing homes. For Personal Development, he improved his musical skills playing the flute. For Physical Fitness, he completed sixteen fouette turns en demi-pointe. For Expedition, he spent a week living on a Spanish-speaking farm.
Congressman Fulcher commented, "I am so proud of these First District Congressional Award Gold Medal Recipients. Kyler, Quincy, Alia, Asher, and Jules are ambitious, diligent, and represent some of the best in Idaho. I am confident these young adults will continue working hard to be successful in the future, and I am grateful to have been a part of their journey!"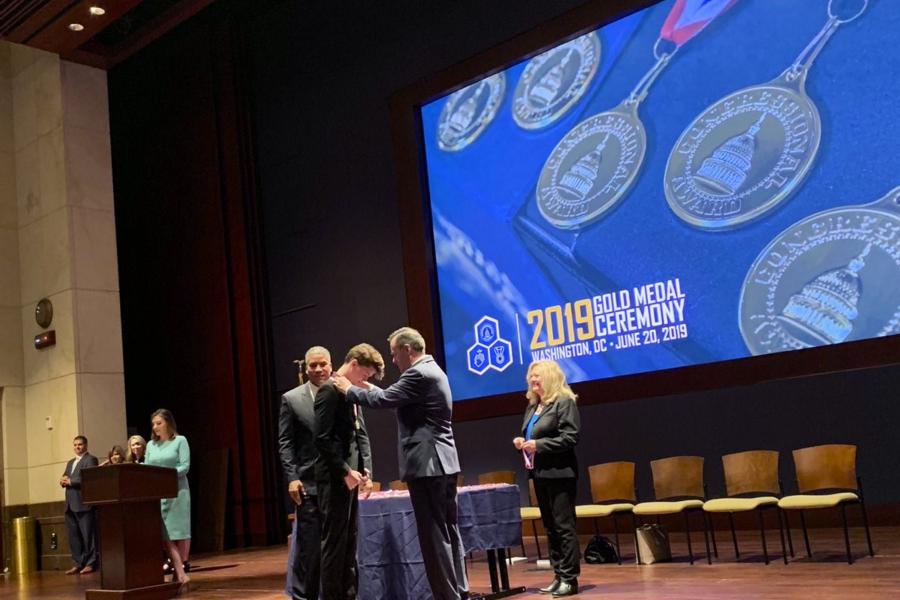 The Congressional Award Gold Medal is the highest honor a Member of Congress may bestow upon a youth civilian. For a minimum of two years, each Gold Medalist has logged at least 800 hours across four program areas: Voluntary Public Service, Personal Development, Physical Fitness, and Expedition/Exploration.
The Congressional Award is the U.S. Congress' only charity and award program for youth. Established by Congress as a public-private partnership in 1979 under Public Law 96-114, the program recognizes initiative, service, and achievement in youth ages 13 1⁄2 - 23. Learn more at www.congressionalaward.org.